Post-doc position available
Post by:

admin

10:04AM Dec 12, 2017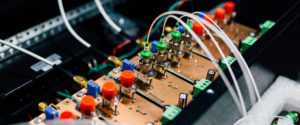 We are looking for a post doctoral fellow to join our group and work on the implementation of continuous variable quantum information technologies using integrated optics. The research activity aligns with the goal of the ARC Centre of Excellence for Quantum Computation and Communication Technology (http://www.cqc2t.org/).
In particular the fellow will work on the optimization of integrated devices for the generation of squeezing on chip, manipulation and detection on chip.  Experience in quantum optics and homodyne detection is desirable but not essential.
The research work will have a strong technological component around the fabrication of integrated devices. In particular the fabrication of waveguide in lithium niobate using the reverse proton exchange technique, periodic poling of crystals and fabrication of electrodes for fast manipulation of light.
Our goal is to create an integrated platform for the generation of CV cluster state for universal quantum computation following the protocol developed by N. Menicucci et al., Phys. Rev. Lett. 104, 250503 (2010).
If you want more information about this position please do not hesitate to contact Mirko Lobino (m.lobino@griffith.edu.au) and visit here